Kinderling Conversation
hosted by Shevonne Hunt and produced by Elise Cooper
They say it takes a village to raise a child, so welcome to ours!
Kinderling Conversation is dedicated to taking the guess-work out of parenting.
Hosted by journalist and mum Shevonne Hunt, you'll hear friendly advice, interviews with experts and insightful tips from trail-blazing parents and carers.
Produced by Elise Cooper.
Contact the show
SMS: 0437 665 200
Phone: 1800 KIDS RADIO
Socials: Facebook / Twitter 
Email: contact us
Listen to the podcast
Email:
Catch up on the latest episodes
Featured the following interviews
Shevonne first discovered Petrea King in her early 20s when she read her book Your Life Matters: The Power of Living Now. Petrea has worked a lot with people suffering…
Mothercraft Nurse Chris Minogue gives us her top tips for toddlers and sleep.
Featured the following interviews
Star Wars fever is engulfing the galaxy right now with the release of the new film The Force Awakens this week (read our spoiler-free review). At the centre of it all is…
As 2015 comes to a close it's easy to look back on the year gone by and think about all those new years resolutions that fell by the wayside, like…
Featured the following interviews
Snowy Mountains based, Rolf Svensen, has been spinning yarns for his son, Karl, since he was an ankle biter seventeen years ago. Yarns that talk of the Australian bush and…
Movie reviewer Evan Shapiro gives us a sneak peak at the big family movies being released this Boxing Day.  
Featured the following interviews
Hearing your child have trouble breathing can be a really frightening experience, especially when it's an ongoing problem. We talk to Paediatrician Mark Nethercote to explain the origins of asthma…
Forget stocking-fillers, we're far more interested in tummy-fillers this festive season. We talk to Marie Carr from the Phoodie blog about some great ideas to give your loved ones, including…
Is your tot a techy type? We chat to CNET reporter Lexy Savvides in San Francisco about the best tech toys even we want to play with this Christmas. She…
Featured the following interviews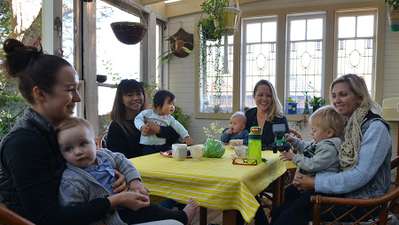 Since becoming a single parent Sarah Jane Nilson has found an enormous amount of support through the online Facebook group, Inner West Single Mums. She's a strong campaigner for the…
If you've just started a family or have a bub on the way, we talk to Dr Julie Green from the Raising Children Network, about how you can start your…
Featured the following interviews
As fun as it is, Christmas can be a stressful time. Especially so for families with separated or divorced parents, where it can mean doing two Christmases, or even more…
As we all know, travelling with family can be the ride of your life, or all stations to tantrum-town, if you're unlucky. We chat to Mothercraft nurse expert Chris Minogue…