Kinderling Conversation
hosted by Shevonne Hunt and produced by Elise Cooper
They say it takes a village to raise a child, so welcome to ours!
Kinderling Conversation is dedicated to taking the guess-work out of parenting.
Hosted by journalist and mum Shevonne Hunt, you'll hear friendly advice, interviews with experts and insightful tips from trail-blazing parents and carers. Produced by Elise Cooper.
Contact the show
SMS: 0437 665 200
Phone: 1800 KIDS RADIO
Socials: Facebook / Twitter 
Email: contact us
Listen to the podcast
Email:
Catch up on the latest episodes
Featured the following interviews
As you get older, your friendships can start to be with other couples. So what do you do if that couple goes through a rough patch? Fiona McDonald from Relationships…
Elliott the Kid is an 8-year-old with an amazing ability to rap. Along with his Dad, Lucky Luke, they are Battlebird, and they've just released a brilliant new EP Life…
Featured the following interviews
'Tis the season for colds, coughs and flu! Myth-busting scientist Alice Williamson talks about germs, how they spread and what we can do to keep them at bay.
Featured the following interviews
Most parents are well acquainted with the feeling of sleep deprivation. You can feel hazy, have a slight headache, and be extra sensitive. Professor David Hillman is the President of…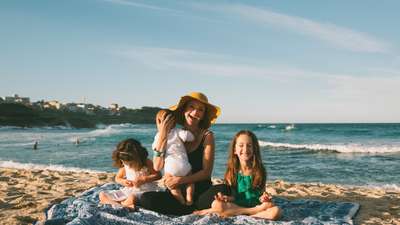 Amy Taylor-Kabbaz has released the beautiful Happy Mama book which is all about finding yourself again after having children. For new mums, it can be easy to let go of the…
Caring Sydney cafe owner Natala Bain has decided to welcome breastfeeding mums with open arms... and a free cup of tea (even if they don't intend on buying anything!)  After…
Featured the following interviews
Your child might love eating with their hands, but at some point a spoon and fork might be a good idea. Find tips for introducing cutlery with nutritionist Jess Beaton…
MotherCraft Nurse Chris Minogue gives catered advice for parents wanting guidance on everything from settling techniques, starting solids and managing tantrums Today on Kinderling Helpline, Chris helps a mum deal…
Featured the following interviews
How do you feel about your local public school? Are you worried that it may be under-resourced, or too crowded? Social commentator and public school advocate Jane Caro says that…
Could a Downward Dog make things a little easier with your wayward toddler? Leonie Percy, author of Mother Om,  says it can. And if you can't find the space…
Featured the following interviews
Technology is changing at breakneck pace. Find out how to stay engaged with what your kids are doing on screens with Vincent Trundle, Digital Education Producer at the Australian…
When your kids are little, a family holiday can just feel like the same amount of chaos in a different location. Not so, says Travel Without Tears author Sally Webb…