What a massive year for kids' music! From the The Avalanches' ode to munching cereal to Lachy Wiggle going solo to Daft Punk being celebrated as a bedtime lullaby, 2016 proved one of the best yet for music written for and about little people.
It was super-hard to choose favourites, but here - in no particular order - are some of the cool kid-hop, J-Pop, k-indie rock and family-folk songs that made us sing and dance this year.
Download Mixtapes to your phone and listen offline, anywhere, anytime. Grab our free app.
1. The Noisy Eater - The Avalanches
Biz Markie cartoon-rapping about raucous mastication? What's not to love?!
2. Let's Get Dirty - The Stinky & Dirty Show
Grown-ups may not be fond of the results, but what kid doesn't love permission to grub-it-up.
3. Because I Love You - Caspar Babypants
Presidents of the United States of America frontman swaps punk for songs about how love overcomes any hurdle life throws our way.
4. The Happy Song - Imogen Heap
Research says this is officially the happiest song on the planet! And we totally agree.
5. Rainbow of Colours - Lachy Wiggle
The Purple Wiggle bravely struck out on his own this year and came up with this cute song. It's short but its waaaay sweet. Watch out Wiggles!
6. Changes - Elizabeth Mitchell and You Are My Flower featuring Simi Stone
It was a sad year for music when David Bowie passed away and the kids music world celebrated his life in the best way they know how – through his amazing music.
7. Let's Take A Walk - Angie Who
Whether she's singing about a walk to the park or a walk through life, the Sydney singer lives and breathes love on this Aussie family folk song.
8. Tiny Little Me - Kazoops
Kazoops write up rather than down to kids - a perfect example of where imagination and excellent songwriting can get you.
9. Words Make the World Go Round - Justine Clarke/Josh Pyke/Deborah Cheetham
This song - penned and performed to promote Indigenous Literacy Day - quickly warmed its way into our hearts. 
10. Little Girl's Dad - Urthboy
The Aussie MC from The Herd made us melt with this tribute to his baby girl. 

11. Gimme Some Skin - Alphabet Rockers
A song about skin colour that asks us to remember the many ways in which we are connected rather than divided. An important message in 2016.
12. A Chicken Is Not A Fruit - Bunny Racket
Who knew! Even us grown-ups can learn life lessons from a bunny in denim.
13. Best Day Ever - Sam Moran
We've all had them, we'd all like more of them and now we have an anthem to celebrate them!
14. Kimchi - Formidable Vegetable Sound System
We can now enjoy this delicious Korean dish in our mouths AND our ears thanks to FVSS.  
15. Waking Up - Kero Kero Bonito
It's tough to get going in the morning so thankfully we have the J-pop-London-urban-cool-kids Kero Kero Bonito to help us out.
16. I Ate A Rainbow - Teeny Tiny Stevies
This Melbourne duo pens a modern hoedown classic that teaches kids (and us grown-ups) about the joy of colours AS WELL as healthy eating.
17. I Love Bananas - SplashDance
A rock 'n' roll swing number that sings the praises of everyone's favourite yellow fruit.
18. Plastic Bag - Nick Cope
Songs are an important way to spread important messages so here, ex-Candyskins singer, Nick Cope, gets us all thinking about the life-cycle of plastic bags.
19. Sticks and Stones - The Idea Of North, Lior, Goldner String Quartet, Brett Hirst, George Butrumlis
This one is a moving and gentle ode the emotional pain of bullying and how we can all find the strength inside to be brave.
20. Glorious - Ngaiire
One of Australia's rising stars, Ngaiire brought us a song of celebration and joy that anyone would love.
21. Get Lucky by Daft Punk - Rockabye Baby
'Get Lucky's lyrically a little too spicy for our audience, but when it's re-worked as a lullaby, well we couldn't resist.
Check out our latest mixtapes
This program is proudly presented by Kinderling app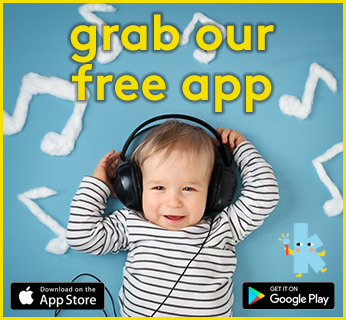 Discover more programs
On Facebook
Subscribe to our mailing list for the latest news, comps and music.