Fri 8 May 2020
 How and why are they made? And why are they important to the First Peoples of south-eastern Australia? 
In this episode The Fact Detectives chat to Di-Di Vaha'akolo who is a programs officer in the First Peoples Department at Museums Victoria. Di-Di is a proud Yorta Yorta, Wemba Wemba, Taungurong, Tongan and Fiji-Indian woman.
Listen now to find out about all the awesome facts about possum skin cloaks! 
If you love finding out fun facts about cool stuff, then tune in to The Fact Detectives weekdays at 7am or weekends at 1pm; subscribe wherever you get your podcasts; or listen anytime, anywhere on the Kinderling app. 
And if you have a big Fact Detective question, send it to factdetectives@kinderling.com.au  
A Kinderling co-production with Museums Victoria.  
Listen to more The Fact Detectives episodes
This episode is proudly presented by Museums Victoria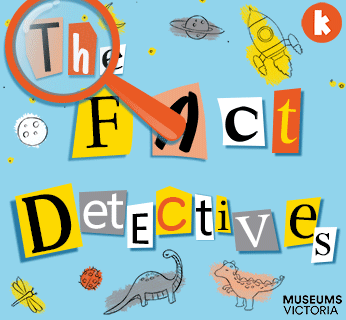 Discover more programs
On Facebook
Subscribe to our mailing list for the latest news, comps and music.