Posted by Shevonne Hunt at February 5 2018, 1:45pm
Each year it happens. My shoulders tighten and a feeling of dread starts to hover over me. 
Kids' birthday parties. 
My daughter is about to turn six, and soon after that my son will turn four.
One would think by now that I'd be better at them. But I'm not.
We live in an apartment where we eat at a fabulous pull-down table that we put away once we're done so we have space to move. It's not the best environment for entertaining lots of kids. It's definitely not suitable as a wet weather option.
Every year my husband suggests that we have these parties in a park somewhere. And we have done this several times, but now my daughter is older she and her friends need more activities than a swing and a seesaw to keep them happy.
Plus (and this is my main concern), being a mere human with no godlike powers at my finger tips, I cannot control the weather. The last two birthdays it has rained. And that is a stress I just cannot live with.
I am, after all, a parent of my age. I feel completely responsible for creating beautiful memories for my children. Or at the very least, to provide them with a birthday experience that won't totally suck.
Like a rained-out party.
And then there's everything else that comes with a birthday party. I can never get my head around how much food to provide (and what kind of food will work best). Then there's the decorations, the birthday cake, the party bags, the birthday invitations (and making sure that all the kids that need to be invited are invited).
Oh dear. I think I'm going to have a panic attack.
Hosting parties is not part of my parenting repertoire
How do people do this? Two of my besties always host the most amazing birthday parties with themed cakes, food, party bags and a host of old-school games for the kids. In my opinion, they are super-human mums. Actually, that's a super-power I would definitely choose, the ability to do awesome kids' parties.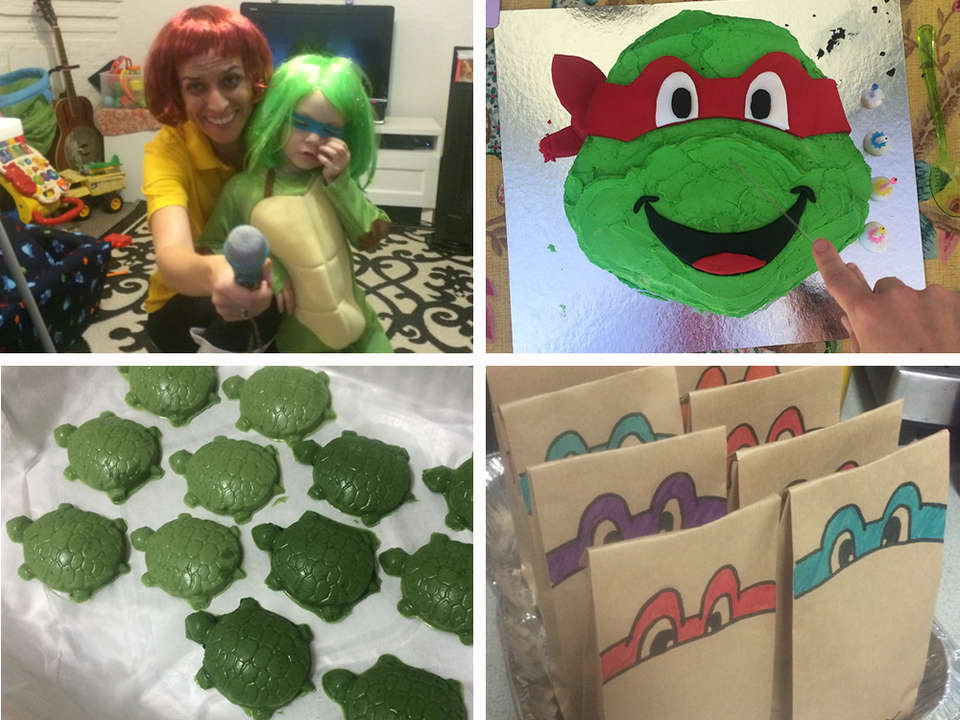 If I could afford to out-source the whole sh'bang, I would.
I am also very aware that this is my problem, and not a situation generated by my kids.
There are certain parenting skills that I have let go of. Like cooking. Or craft. Or caring if they eat sugar. I've learnt to accept my faults on these fronts and move on. But I can't let go of birthdays.
That's probably because my own parents excelled at them. I have memories of pass-the-parcel and bobbing for doughnuts tied on a string in the backyard. And my mum always made spectacular themed cakes which were the highlight of my year.
Getting others (ie my husband) to pitch in doesn't work
I have tried delegating different aspects to my husband. One year I asked him to do the party bags, and each child ended up with a small fold out chair from Daiso.
People still talk about those bags, so I guess it was a success. But the reason the so-called "emotional load" falls on my shoulders is because I can't handle the stress of things being done last-minute.
He is so relaxed and optimistic (which is obviously a boon for our relationship, given I am super-organised and pessimistic) that everything gets left til just days before the party.
So yes. This is a problem of my own making, but still, shouldn't it be easier? I mean, they're little people so shouldn't their parties be on par to their overall stature?
If one of your parenting super-powers is organising parties, I'd love to hear your thoughts.
All I want is a fail-safe location that doesn't cost the moon, activities I don't have to stay up until midnight to create, and food that is easy to prepare and won't make anyone sick.
Or maybe you could just come around and do it for me?
Please? 
Shevonne Hunt is the host of Feed Play Love, your bite-sized daily parenting podcast. Listen wherever you get your podcasts.