Posted by Shevonne Hunt at March 22 2016, 4:38pm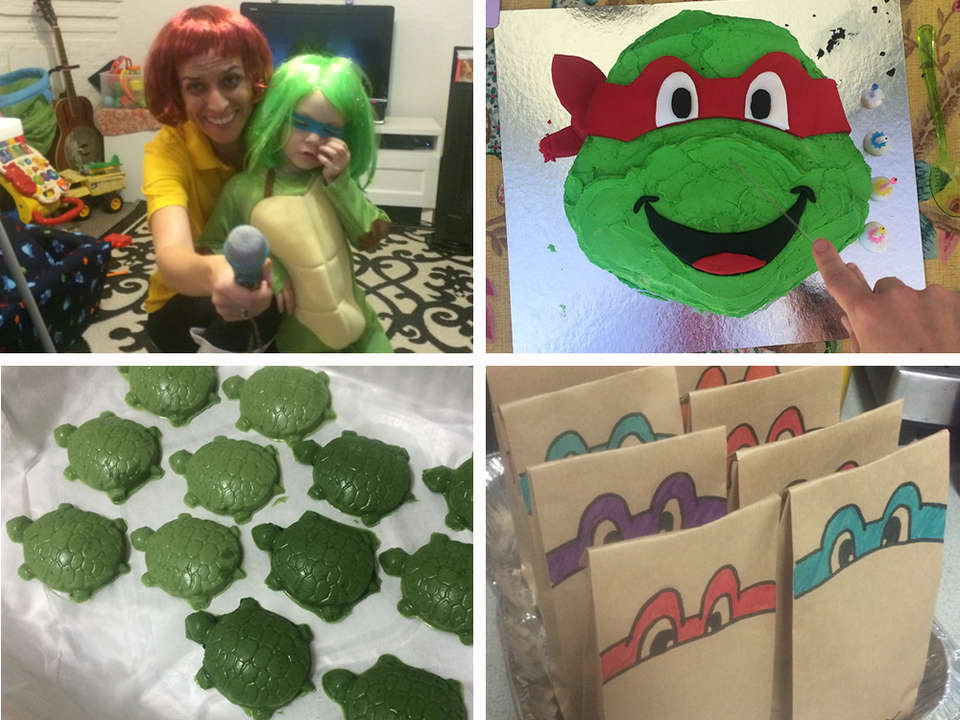 How far have you gone planning your child's birthday party? For me, I let the creative inspiration flow… but what starts out as a good idea doesn't always come to fruition.
It was on a non-eventful Sunday drive somewhere that I realized that my daughter Darcy's 4th birthday party wasn't going to be a straight- forward thing.
There were still a couple of weeks until her party, but I'd already started planning (I'm nothing if not organized) and I thought I had this one in the bag… so why not hype it up?
"Are you looking forward to your birthday party?" I asked, gleefully waiting for her sweet, enthusiastic reply. 
"Yes!" she said, "I'm going to have an Underwater Sea Party!!!"
"Um…  Don't you mean you're having a Teenage Mutant Ninja Turtle Party?" I said hopefully.
"Yes! An Underwater Sea Teenage Mutant Ninja Turtle Party!" she replied. 
Not the response I was after, given the party wheels had been turning for some time, based on her request for a TMNT party. I had not foreseen this double theme bomb coming.
I should've known. Right after I ordered the Raphael cake, she informed me that Donatello and Leonardo had now ousted Raphael as her favourite turtle.
Now, as a parent Donatello and Leonardo are the better role models- one is the brains, the other is the leader. From what I can tell Raphael is just angry, rude and aggressive. But he wore a red mask and theirs were purple and blue. She was definitely not going to make this easy for me… though in all fairness, I was pretty determined to make things difficult for myself.
There's something about a child's birthday party that unleashes the creative demon inside me. I get all kinds of ideas. Like dressing up as TMNT characters, I would be April O Neil, my husband would be Splinter (basically a big rat) and Darcy and Arlo (Darcy's little brother) would be turtles…
I started to trawl the net early, to find an appropriate costume for myself. Turns out April O Neil is a fantasy character in more ways than one. Hardly anything I found was appropriate for a child's birthday party.
Time was running out, and I needed to turn my attention to party bags and food.
That was when I had a light bulb moment. I decided to make chocolate turtles and cover them in green jelly; that would mean they were turtles in mutagen!! (I know right? Genius! Ok that might be a reference for the uber fan)
It also meant ordering turtle molds and making the chocolates myself, and searching for the right kind of container so everyone could see the brilliance of the idea.
Then there were the party bags. Why buy the branded gizmos, I thought, when I could make some cool stuff? And by make, I mean corral my mum into helping me make seventeen different coloured masks, one for each bag.
I went to Spotlight and bought some coloured felt. I sat with my Mum and cut out 17 different masks until my wrist was throbbing from RSI. Of course those masks, once worn by a child, itched like the blazes and stretched out of shape. Lucky the bags were given at the end of the day and I didn't have to see that particular parental fail in action. 
So here's what I've learnt from this birthday spectacular…
#1. Once a theme has been requested, reinforce said theme at regular intervals
Possibly through repetition… ie are you looking forward to your TMNT party? How exciting you're going to have a TMNT party!! With careful emphasis on the words of the theme, staring steely eyed into said child's eyes. 
#2. No one cares what colour the turtle is if the cake is the shizzle 
Darcy didn't dissolve in a puddle of disappointed tears when the cake came out. She was too busy looking at the mountain of delicious green icing in front of her. And it looked friggin' amazing (thanks to  Cake2theRescue)... so all in all a monumental success!
#3. Save the dress ups for the kids



Most adult costumes appear to be for a different kind of market, and might send the wrong message to other parents.
#4. Follow creative inspiration when it strikes like lightening



The turtles in green jelly went down a treat. Maybe the meaning was lost on the kids in their desire to consume as much sugar as possible, but I'm still counting that as a win. 
#5. DIY is over rated
I am not a tailor, nor apparently, do I know how to pick material… so next time I'll find the closest party warehouse and go nuts in the green aisle.
:: Tune in to hear Shevonne Hunt on Kinderling Conversation every weekday at 12pm and subscribe to the podcast.