Posted by Julie Street at May 26 2016, 8:31am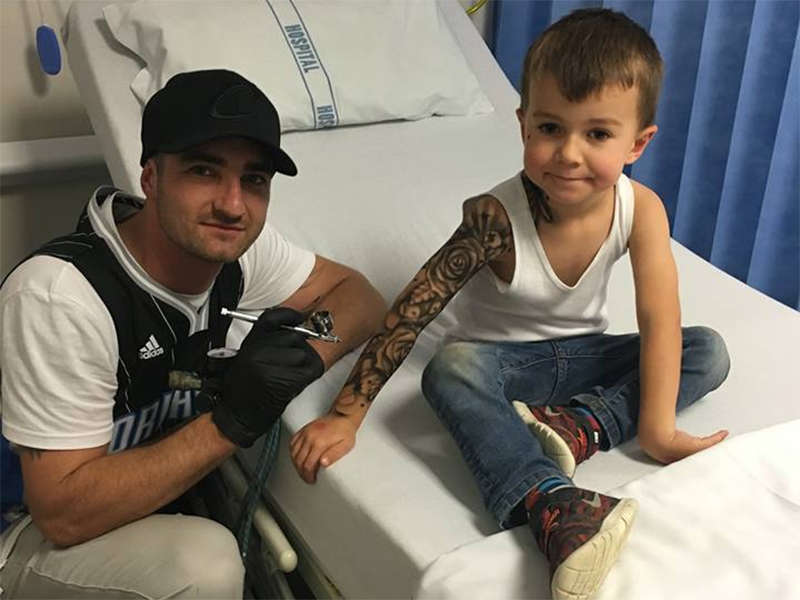 New Zealand-based Benjamin Lloyd is a tattoo artist with a deft hand and a big, big heart. He gives kids in hospitals spray-on 'sleeves' to give them a "confidence boost" when they're sick. Don't worry, he uses non-toxic ink that washes off in the shower.
The awesome project started when he posted a pic on Facebook of a friend's son with his striking skull-and-roses design on his arm. The Auckland tattooist promised if his picture got 50 likes, he'd go to the local hospital and "tat all the kids up."
It took just 30 seconds for Benjamin's post to get 50 likes. By the next morning it had racked up over 400,000. So, true to his word, he packed his airbrush and India ink and got himself down to the children's ward at Starship Hospital.
The inker says he was inspired to help young kids with fake tattoos because he went through a period of bullying at school for a burn on his hand.
"I was teased every day at school and so I would draw over my hand and up my sleeve," he told Stuff NZ. "I just got better and better, eventually I had a line-up of people wanting me to draw on them, I was doing deals with kids swapping cards and marbles."
Meanwhile, over at Starship Hospital, Benjamin's tattoos have been proving a big bit with both kids and their parents. And the 25-year-old tattooist's Facebook page has been inundated with people praising his incredible airbrushing skills and his generosity. "Love love love this," Nancy Hayne wrote. "From a parent who spent six months with my son before he passed. This is a great thing you do."
A great thing indeed. We salute you, Benjamin Lloyd, for putting such amazing artwork on kids' arms - and such awesome smiles on their little faces!
Also see:
:: Substitute teacher's day from hell goes viral
:: Video: Problems only 5-year-olds understand
:: 15 parenting tips we learnt from Game Of Thrones
:: Photobombed! Hilarious baby photo fails