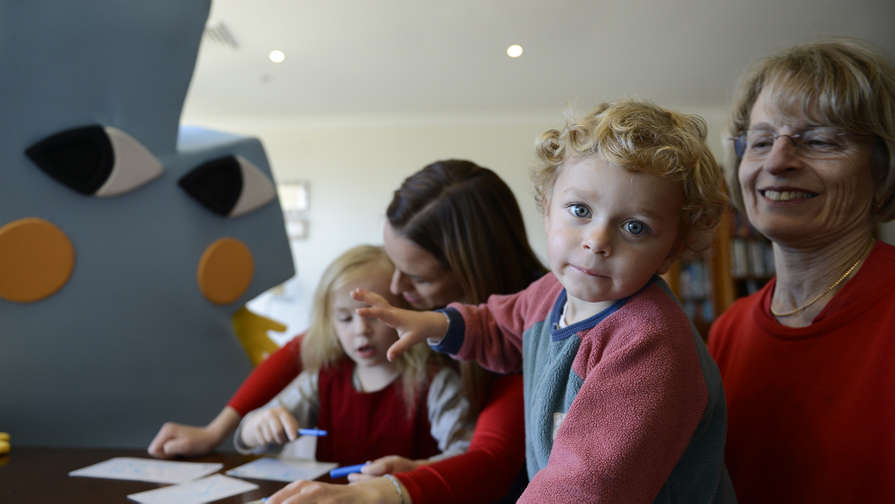 Tue 13 September 2016
13 mins
Often family life can be like a whirlwind of getting kids dressed and off to day care and school, preparing dinner, dunking them in the bath, whisking them off to bed before falling into bed yourself. Sleep and repeat. 
In between all this, communication is stuck between practical instructions like "get your shoes on" or "eat your greens," while fielding responses like "why?" or "no!" from those knee-high mini-humans. 
Dr Julie Green, Executive Director of Raising Children Network has some great tips for communicating in families. 
Your own behaviour counts
Talking and listening with your partner and other family members is just as important as your children.
"It's important to lay the foundations of honest, sincere dialogue from early ages and build those skills within a family," says Julie, "So that as much as possible, everyone in the family is able to talk about difficult and challenging feelings, as well as the fun and happy stuff."
Talking with young children
Even if your child's language skills aren't quite there yet, and it's not always easy to understand what they're talking about, try to tune in and say it to them. For example, "What I think you're saying is you really want another go on the slide." 
Body language is important
Be mindful of your facial expressions and your body language when talking with children. Are you leaning in towards your child and listening attentively? Or have other stresses from your day crept into your tone of voice, along with tense shoulders and anxious lines on your face? 
Get down on a child's level
Remember that adults are giants to kids and one way to really communicate is to crouch down on their eye level to talk with them. Julie Green says this sends a clear message to kids that "You are important, what you have to say is important, and I want to hear what you have to say."
Set aside time for communication
Making time for quality conversations – without interruptions - means turning off the TV and putting away smartphones and tablets. Julie says that this tells kids that, "being together and focusing on us, as a family, is important." 
Ideas for conversation starters
Julie suggests some good alternatives to the old "How was your day?" conversation starter. Why not share something from your own day instead? Or open it up more broadly for your kids.
1. Talk about feelings
Talking about emotions could be about engaging a child about feelings raised during a TV show, about a relative's upcoming birthday, anniversary, celebration, or also the passing of relatives or friends.
2. Cross-generational chats
Encourage kids to talk with older relatives by starting with a topic that is relevant to the child's life. Julie Green says this might be by asking grandpa something like "did you used to get pocket money?" If the currency was different, then it opens up a conversation about what that meant. Or maybe they didn't get pocket money at all because there was no spare money at that time – and that also opens up a conversation.
Remember kids are also curious about times when there weren't things that are familiar in their lives now, for example televisions or mobile phones – "What was it like back then? How did you live without that?!"
3. Draw a family tree
It's interesting when you realise that kids don't understand how people in your family are related, until you tell them. Julie says that there may be some happy stories but also challenging stories around experiences like migration and war. She says that whether kids are adopted or not, they are naturally curious about their origins so those kinds of questions will inevitably arise; it's never too early to share what you may know about a child's biological parents. Honesty is the best policy.
For this week's challenge find out something new about a family member, or draw a family tree and explore your family history. Take a pic of your experiences and upload it with the hashtag #screenfreechallenge #kinderling
The Raising Children Network has lots of great resources for families of all shapes and sizes. Visit their Parents Like Me hub for more info.
More Screen Free Challenge features
Subscribe to our mailing list for the latest news, comps and music.