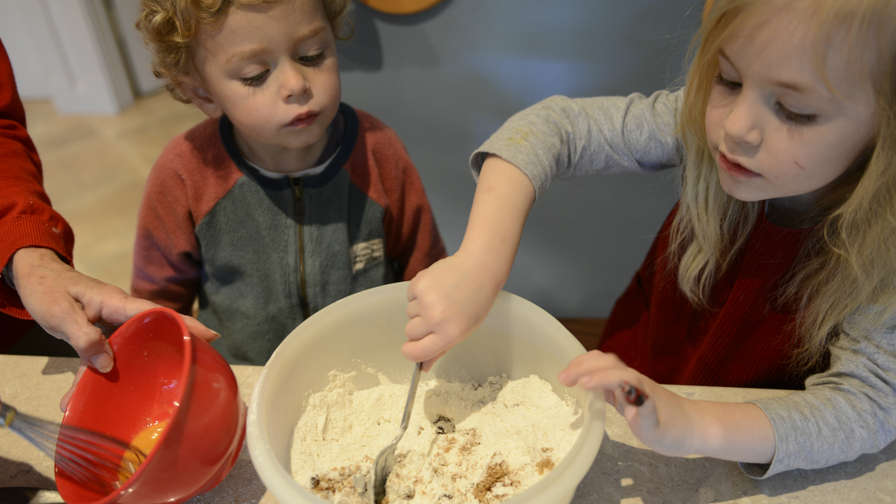 Mon 17 October 2016
11 mins
Cooking with small children isn't one of the easiest things to do. It's a tricky balancing act of keeping them occupied, while you get things done in record time - or involving them in the process. 
Allie Gaunt is the co-creator of One-Handed Cooks – a food blog dedicated to recipes for babies and toddlers. She knows all too well what it's like to juggle a baby and cooking. 
"I think of it just like painting. Painting takes time, reading takes time, and cooking in the kitchen takes time. It's all part of that learning and growing and doing something new with your kids," she says.
According to Allie, cooking with kids in the kitchen is a lot more than simply cranking out a recipe. There are a whole lot of skills that your child is developing through the process and a positive side effect is building their self-esteem. 
Here are three things to keep in mind: 
Set achievable steps
The beauty of a snack like bliss balls is that parents and carers can do a lot of the preparation, so kids feel like they're helping when it comes to mixing everything together. If you've got a toddler, you can prepare the ingredients and operate the food processor, then they can help tip ingredients in together and rolling the balls. Older kids can help with measuring the ingredients. Remember to be realistic: there will be mess and that's ok. 
Help fussy eaters
Allie says that if kids have ingredients in front of them, they're more likely to have a little taste of something that may be unfamiliar, and it's an unintimidating way to get them to try new food.
Develops fine motor skills
"When my son first started in the kitchen with me, he was just fumbling around throwing things on the floor, but after a while he could actually crack an egg and I was really surprised by the things he could do," recalls Allie. She reasons that a bliss ball is kind of similar to Playdough, in that it's tactile and it gives kids the opportunity to use their hands to roll the mixture. 
Bliss balls are one of Allie's favourite things to cook with kids. They're a nutritious, easy snack to make, packed with seeds, nuts and dried fruit. They're versatile too, so you can mix up what you include.
One Handed Cooks have several great bliss ball recipes, so one week you might choose apricot coconut muesli balls, the next you might opt for pear, apple and oat balls. Peanut butter balls are a great option for fussy ones, and for kids with allergies, try their dairy and egg free carrot 'cake' balls. The cool thing with all of them is that you can roll out 30 at the one time and pop them in the freezer for later. And don't worry, they defrost in no time!
More Screen Free Challenge features
Subscribe to our mailing list for the latest news, comps and music.